Of interest
TechAgro in Brno
STEP TRUTNOV presented a new model of boilers for biomass
Step Trutnov
Needs Your Help to Become the National 'Public' Champion for the Czech republic in the European Business Awards.
Step Trutnov
participated in workshop focused on mayors of small villages
Step TRUTNOV
has built a biomass-fired power plant, the first of its kind in Europe
STEP TRUTNOV a.s.
WINS BRONZE STEVIE® AWARD IN 2013 INTERNATIONAL BUSINESS AWARDS
Minister of the autonomous region of Vojvodina, Serbia,

Miroslav Vasin, visited the stand of Step TRUTNOV Company
Agricultural day in Mžany 2013

Hereby we would like to invite to agricultural day in Mžany, Czech Republic that is taking place on 10.5.2013 from 9:00. Step TRUTNOV will exhibit here boilers for burning whole bales of straw and hay.
Step TRUTNOV participated in the Czech Innovation competition

Prague, 28 February 2013 Step TRUTNOV plc became participants in this year's Czech Innovation that took place in February earlier this year. The programme of this competition, attended by the company for the first time, was accompanied by a "festival of innovations", which attracted as many as five hundred visitors.
80. International Agricultural Fair in Serbia

Hereby we would like to invite you to the international agricultural fair that is taking place on 18.-24.5. in Novi Sad, Serbia. Step TRUTNOV company is going to participate on this fair as an exhibitor. The fair is considered to be the largest agricultural fair in the whole region of Balkan countries that is being visited by 300 000 visitors.
Step TRUTNOV Company

has participated for the first time in the TOP Odpovedna firma (TOP Responsible Company)
Step TRUTNOV Company

through to next round of highly-competitive European BusinessAwards
Step TRUTNOV

Company visited European Parliament of Enterprisers in Brussels.
Step TRUTNOV

welcomed last week ex-minister Martin Bursík and Jan Habarta, the President of CZ Biom.
Stevie® Award 2012

STEP TRUTNOV a.s. Company win a gold stevie® award in 2012.
European Business Awards

Step TRUTNOV Company has been selected as one of the 25 national finalist from the Czech republic in European Business Awards (EBA) 2012.
European business Awards.
England is burning Miscanthus

in the boiler for biomass from Step TRUTNOV Company
Utilization of the universal boiler for combustion of whole bales of hay
Recently, the attractiveness of energy crops for burning has increased namely in the field of agriculture. This mainly involves burning hay harvested from permanent grass stands, especially meadows and pastures.
Our company participated in the exhibition called "Země živitelka"
taking place in České Budějovice. During this event Step TRUTNOV company received both, the Gold Award from Czech Building Academy as well as the price for the technology of the year 2009 (industrial boiler for burning whole bales of biomass). The award was hold by the Ministry of Transport, the Ministry of Rural Development, the Ministry of Industry and Trade and the Ministry of Environment.
Step TRUTNOV as one of the European Business Leader
Step TRUTNOV as a producer of boilers for biomass won a European Business Awards (EBA).
Step TRUTNOV Company has received a European Business Award
CZech BusinessToday.eu
In November, Step Trutnov was invited to the SME Summit
a top meeting of small and medium enterprises and the European Commission aimed at the European economy, with the key role of these businesses in the renewable energy and employment sector being the main topic.
video...
Step TRUTNOV Company expanded to Kiev
where a new office has been opened through EEG Ukraine partner. This office is focus on region of Associated Independent States.
Universal boiler for burning (not only) whole bales of straw
Biomass-fired boilers with outputs ranging from 100 to 1,000 kW are now mostly designed for either burning straw or waste wood.
Biomass boiler room
The construction of the biomass-fired boiler plant with a boiler for burning whole bales of straw and energy crops at Step TRUTNOV a.s. was completed and put ...
Florcenter Olomouc
Stages I. and II. of building biomass boiler room in Flor center Olomouc have been completed. The boiler room is exceptional in that it burns whole packs of straw...
Vacancies
In connection with production expansion, the company will establish workers to the following positions: welder with basic training in accordance with official standards EN 287-1 111 and EN 287-1 135. Also a project engineer to dealing with orders from abroad - language qualifications needed.
Map
Euronews - Business Planet
Welcome ...
Step TRUTNOV Company was established in 1990. Due to many years of own experiences, company offers wide portfolio of products such as pressure vessels and boilers for biomass. The company disposes of its own manufacturing facilities, administrative facilities and workshops. The main business is focused on technology development, manufacturing and delivery for power industry, heat technology and other branches where the products find their application. In the field of pressure vessels the company can offer to its customers products such as heat exchangers, air tanks, water heaters, storage reservoirs, storages for liquids and other materials, filters, equipment for water treatment, and splitters and collectors, and much more.
As far as the boilers for biomass are concerned, Step TRUTNOV company offers boilers for combusting plant (straw, hay, miscanthus, hemp, flax, etc.) and wood waste (wood chips, shavings, chips, bark, etc.) biomass. The boilers are manufactured in a wide range of capacities; small boilers at the capacity of 195kW or big industrial ones at the capacity from 100 kW to 5 MW. A unique design, which is patented by the company, allows to burn whole bales of biomass by excluding the need of cutting the bales before burning. These strategically dominant products have a great importance from the view of financial savings; the customer can decrease his costs for heating by up to 7 times in comparison with other fuels available on the market. Furthermore , Step TRUTNOV offers cogeneration (production of heat and electrical energy) and gives to the customer the opportunity to become completely independent on external suppliers. Not the least, but the added value of the technology is a positive impact on the environment and the greenhouse effect. Step TRUTNOV company owns several patents on this technology.
With more than 20 years tradition, experiences, very good quality of products and fast lead time, Step TRUTNOV became an important player with a dominant position in this field. Currently, more than 38% of the production is exported to the countries of the EU, but also to Russia and Ukraine.
Libor Pavlíček, MBA
Company director and chairman of the management board
Step TRUTNOV a.s
A small sample of our products ...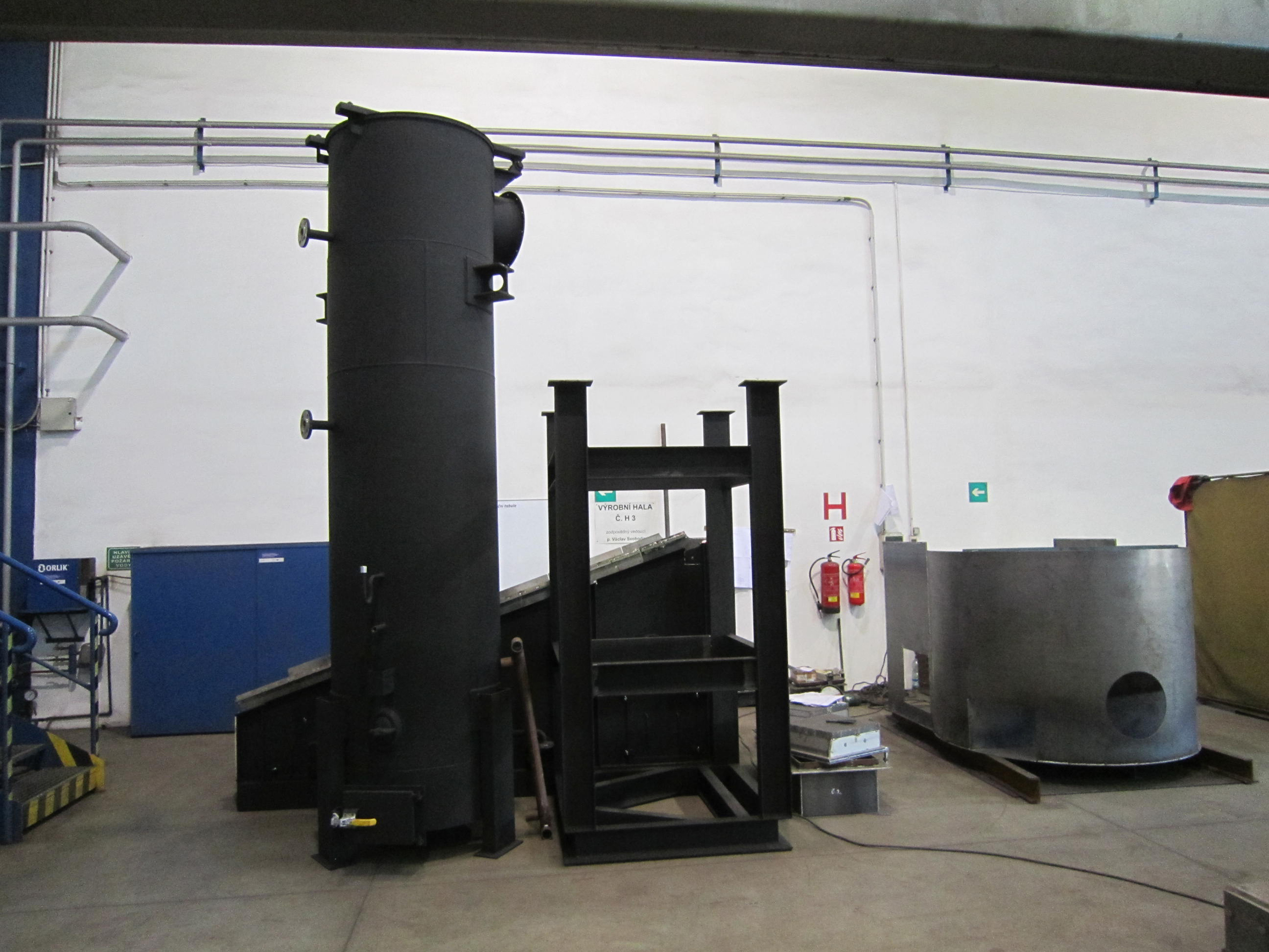 Company's economic and technical growth is achieved through teamwork by engineers, technicians, and production and assembly workers. The company's aim is to provide the customer with a complex product and service, so in many related areas and specializations we cooperate with external co-workers and partner firms.

more information ...