Vertical
air
tank
(TN-VS)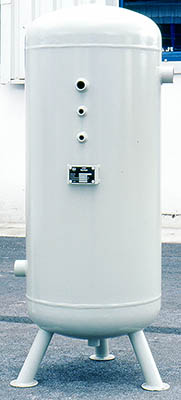 They have a neck for input and output of the working medium, and welded-on pieces for a thermometer, pressure gauge, control sensor, settling and venting. Any order must clearly indicate the size and locating of each inlet and outlet (DN 2) according to customer's specifications. The vessel casing is coated with primer; an internal finish by either galvanising or plastic coating is possible upon request.

Air tanks for working pressures above 1.0 MPa and volumes above 10.0 m3 can be supplied as special products based on a specific calculation.

Step Trutnov a.s. is a lot manufacturer of air tanks designed for assembly of all types of portable compressors.
Technical
parameters
Catalogue No.
Volume
H
D
B
Nozzle
Weight [kg]
[l]
[mm]
[mm]
[mm]
DN 1
DN 2
DN PV
0,6 MPa
1,0 MPa
1,6 MPa
0001
250
1630
500
200
-
G 1"
G 1"
80
93
107
0002
400
1720
600
200
-
G 1"
G 1"
140
145
180
0003
550
2290
600
200
-
G 1"
G 1"
160
175
220
0004
650
1670
800
200
-
G 6/4"
G 5/4"
180
200
270
0005
800
2050
800
200
-
G 6/4"
G 5/4"
220
250
315
0006
1000
2560
800
300
-
G 6/4"
G 5/4"
260
300
360
0007
1400
2300
1000
300
-
G 6/4"
G 5/4"
370
455
575
0008
1600
2700
1000
300
420x320
G 6/4"
G 5/4"
420
530
680
0009
2000
2920
1000
300
420x320
G 2"
G 5/4"
515
630
790
0010
2200
2460
1200
300
420x320
G 2"
G 5/4"
560
680
840
0011
2500
2960
1200
300
420x320
G 2"
G 5/4"
630
750
920
0012
4000
3020
1400
300
420x320
DN65
G 6/4"
880
1030
1300
0013
5000
3750
1400
300
420x320
DN65
G 6/4"
1080
1290
1620
0014
6300
3750
1600
300
420x320
DN80
G 6/4"
1280
1540
1940
0015
8000
3650
1800
300
420x320
DN100
G 2"
1620
1940
2540
0016
10000
3950
2000
300
420x320
DN100
G 2"
1950
2330
3130
Drawing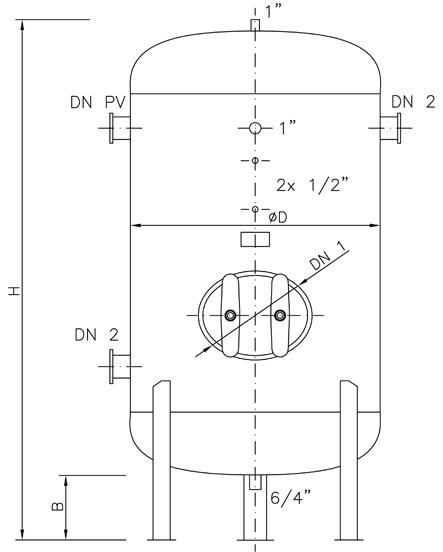 ---